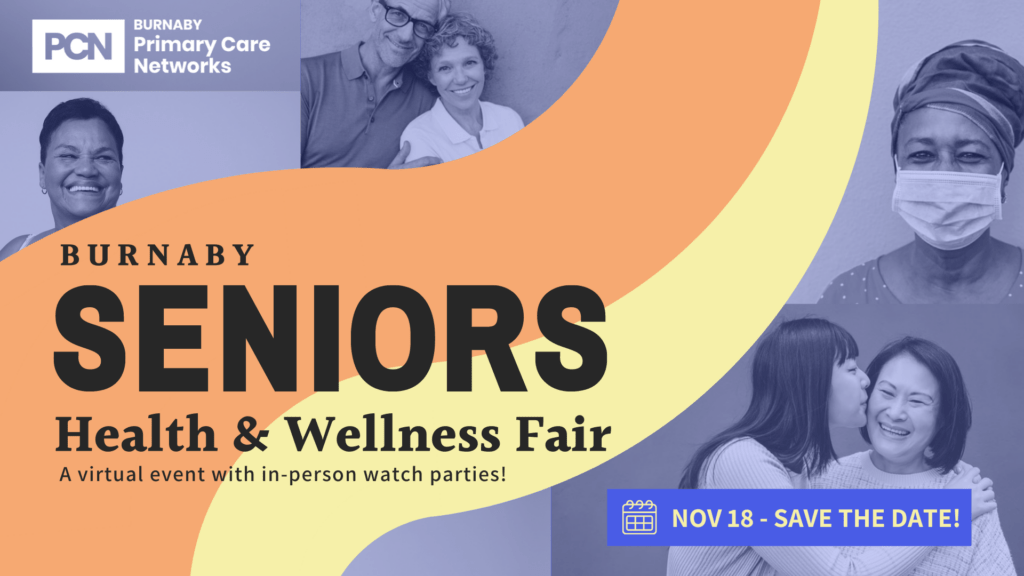 Call for Presenters & Watch Party Hosts
The Burnaby Seniors Health & Wellness Fair is a half-day virtual event for seniors, providing activities and information on the different services and programs — both virtual and in-person — available to them in the City of Burnaby.
WHEN: Thursday, November 18, 2021 | 10:00 AM – 2:00 PM
WHERE: Zoom and Dialpad (phone conferencing system), with in-person watch parties
HOW TO JOIN: Free access! Registration link to be announced closer to the date. Participants must register to receive the link to join.
Hosting a Watch Party
In order to make this event as accessible as possible, it is our hope that community spaces in Burnaby where seniors gather or reside will volunteer to host a watch party.
Technical requirements for hosting:
Large screen or projector (and any connection cables)
A device that connects to the internet
Speakers to play audio
We ask that all hosts adhere to provincial health guidelines to prevent the spread of COVID-19.
If you are interested in hosting, please fill out and submit this form, or contact Andrea Creamer at [email protected].
Presenting at the Fair
Are you a community organization or a not-for-profit agency serving seniors who would like to participate? We are seeking presenters to provide information sessions geared towards seniors in the community or to lead low-barrier virtual activities.
Presentations should be approx 20-40 minutes long, and might cover (but are not limited to) the following topics:
Mental health resources
Meal services and nutrition
Frailty and aging
Death and dying
Mindfulness and meditation
Yoga
Stress and anxiety
Dementia and Alzheimer's
Foot care
Wills and estate planning
Home support/care
Support for caregivers
Tai chi
How to fall
Moving to assisted living facilities/downsizing
Feel free to take inspiration from this year's Seniors Activity Fair, while keeping in mind that this upcoming event will be focused on health and wellness.
With your permission, the presentations would be recorded and published to the Burnaby Primary Care Networks Youtube channel and website as a digital resource.
UPDATE: The call for presenters has now closed.
Accessibility & Language Supports:
We understand that as the world is opening up we are still navigating what it means to share space together. This is why we have decided to create a hybrid event. The majority of presentations will take place online, and in-person watch parties supplement the experience and create a togetherness that has been missed in community spaces. Host organizations are encouraged to create complementary programming offerings in their spaces, and share information that will be added to event promotion.
Additionally, we are seeking presenters and facilitators that speak multiple languages. Being able to offer translation supports and first language programming supports the diversity of Burnaby seniors. If you are a presenter that speaks more than one language please make sure to indicate this in the notes section of the form.
We understand that using tech devices can be a barrier to many seniors, and we will be working with volunteers from our partner organizations to provide in-meeting tech support and by phone and email. More info will be shared in advance of the event.
Contact Andrea Creamer, PCN Community Engagement Coordinator at [email protected] if you have any questions.